Automated Fire Systems, Inc. is the Charlotte areas preferred provider for Novec 1230. Novec 1230 is manufactured by 3M and is a low global warming potential Halon replacement agent for use as a gaseous fire suppression systems. Novec 1230 is offered by Kidde Fire Systems and Amerex, and Automated Fire Systems, Inc. is a distributor for each. Novec 1230 is also marketed under the name Blue Sapphire™.
We can offer you a proposal on a new Novec 1230 fire suppression system, or another clean agent suppression system in Charlotte and the surrounding areas. Or, if you need inspection or maintenance on your existing clean agent system, we can satisfy your needs in Charlotte and the surrounding areas.
You may have noticed the Novec 1230 paint scheme on Greg Biffle's Sprint Cup race car pictured above.
Novec 1230 is generally used where a traditional water based fire sprinkler system may be impractical due to the possibility of damaging valuable equipment or items such as in hospitals, banks and museums.
About 3M Novec 1230 Retrieved from the 3M Website:
3M™ Novec™ 1230 Fire Protection Fluid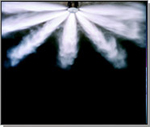 Advanced clean agent fire protection – created for life
Fire can break out anywhere, at any time.
That's why thousands of fire protection professionals around the world like you rely on 3M™ Novec™ 1230 Fire Protection Fluid to keep computer rooms, control centers, document storage vaults and other essential facilities safely up and running.
Safety Environment Performance Regulatory
The next generation of halon replacement technology
Based on a proprietary chemistry from 3M, Novec 1230 fluid addresses industry needs for clean agent fire protection that is safe and effective, while offering an environmental profile that other halocarbon agents like HFCs can't begin to match:
Zero ozone depletion potential
5-day atmospheric lifetime
Global warming potential of 1
Because of this, Novec 1230 fluid – unlike HFCs – is not targeted for phase-down or regulatory restrictions anywhere in the world. And it is approved for use in total flooding fire suppression systems by the U.S. EPA and most major regulatory bodies around the world. All of this makes Novec 1230 fluid today's sustainable choice for clean agent fire protection.